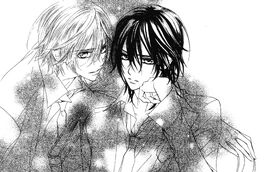 This page is about the relationship between Kaname Kuran and Takuma Ichijo.
Background
Kaname and Takuma have known each other since they were very young. Juri Kuran used to send Kaname to play with Takuma in the hopes that Takuma's sunny disposition would influence Kaname. After Haruka and Juri's deaths, Kaname was sent to live with Takuma and his grandfather. Of all the characters, Takuma may know Kaname the best. However, at times Kaname still remains a mystery to Takuma. Takuma and Kaname greatly respect each other. Takuma frequently accompanies Kaname on his visits to see Yuki and it is likely that Kaname trusts him enough to let him know about the Kuran's secret. It is also seen that Takuma expresses jealousy to whomever Kaname sees as equal, love or favors in the anime and manga. 
Story Summary
When Kaname wanted to attack Rido Kuran (while Rido "possessed" Senri Shiki), Takuma refused to let him harm Shiki's body, appearing to be Pro-Council for a period of time. When Rido assured Takuma that Kaname would not harm Shiki's body, Takuma expressed doubt. When Kaname went to turn Yuki into a vampire, Takuma expressed concern that Kaname had found no other alternatives to prevent her awakening. In the 43rd night, Kaname revealed that - in his eyes, Takuma is the only important Ichijo member in his entire clan. Takuma refused to go back to his original life after Sara Shirabuki "captured" him. He, therefore, became a servant under Sara's powerful pureblood influence and since then, no longer had close contact with Kaname ever since the night class disbanded.
See Also